[Sticky]

Joey Polk's -11' ft 805 LB MAKO New Land-Based World Record

Catching big hammerhead sharks during the full moon was a theory we developed many years ago ;it was an observation made by some ardent shark hunters in the South Florida Shark Club but now we have to look at the possibility of the moon having an effect on record sized Mako sharks because Joey Polk has shattered the Land-Based Mako World Record with a massive 804 pounder during the full moon phase.Joey Polk also owns a Land-based Tiger Shark Record with a calculated 929 Lb Behemoth caught four years ago.The Polk's are a family of top notch shark fishermen from Florida's panhandle and Joey's cousin Earnie Polk has the existing Land-Based Mako Record with a 11 ft 2 in 674 lb specimen.Both the Polk boys have caught multiple Record Makos and Tiger sharks.A big CONGRATULATIONS to Joey and Earnie who was right there next to him to assist with this Incredible catch.The shark fought for just over an hour and almost dumped the big Penn 16/0 on five occasions.
ps........I want to make clear that this shark is big enough to break the existing World Record but has to be submitted to ILBSFA first ,,,,gave this monumental catch a deserved sticky
the link to the news story
http://www.pnj.com/article/20140417/NEW ... cal-waters

story by 'Earnie Polk'
"Hello everyone. I'll start with an apology for drawing heat to us all. We tried to keep it awAy from all the media.By the time it was loaded the sun was up and some one got a pic while Joey was pumping gas. We like late reports and privacy. Social media got us. So one of the news guys said it was gonna air with or without us. They can make a story up and work against us or I can help out. So I figured I'd try to point things in the right direction. Surprising enough the reporters stuck to there word and spoke of our sport in a positive light.
Kenny Peterson Joey Polk Earnie Polk. Three cousins. Pending land based world record Mako. It weighed in at 805lbs and 11' long. Female. Harvested. Would not swim away. Ate a 20 lb king. Caught by Joey. Leadered by Kenny. Videoed by me."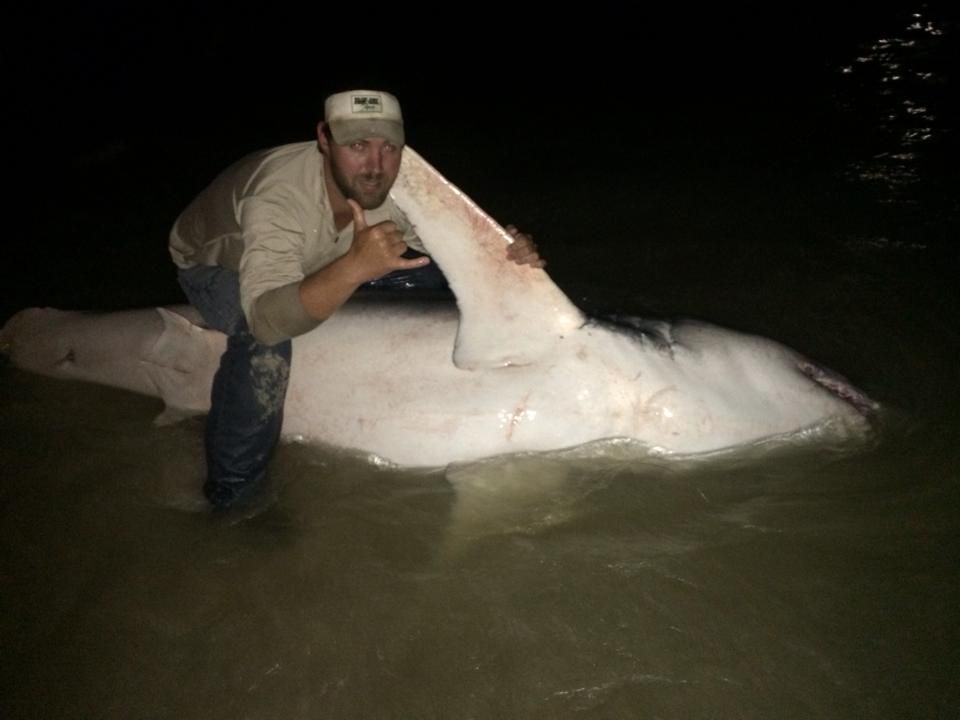 Joey with his massive Mako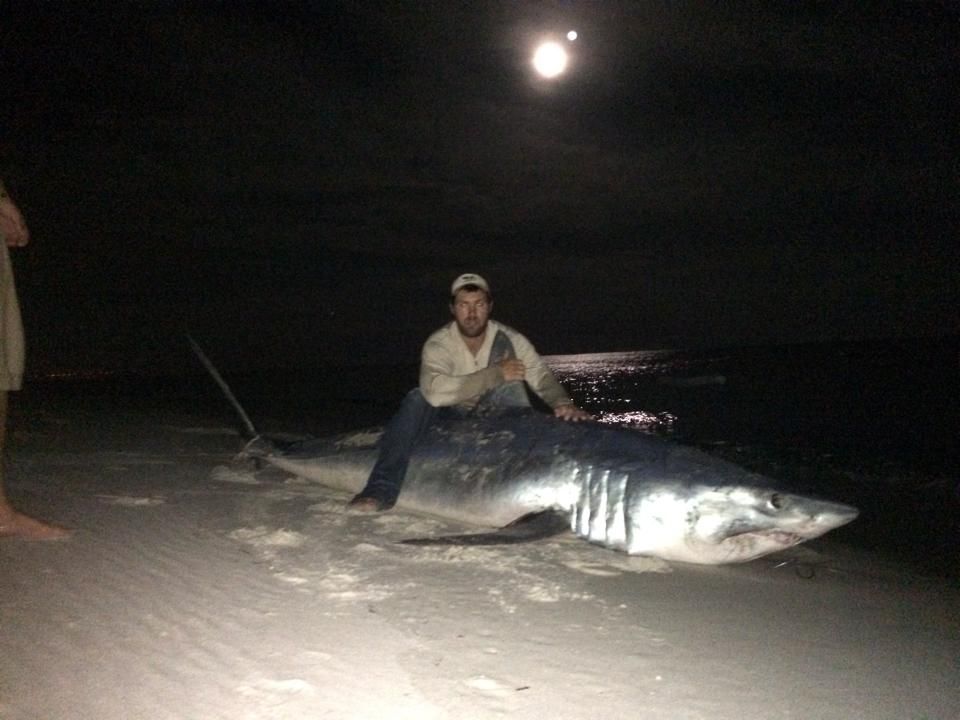 Joey Polk and the potential World Record Mako with the moon in the background shining down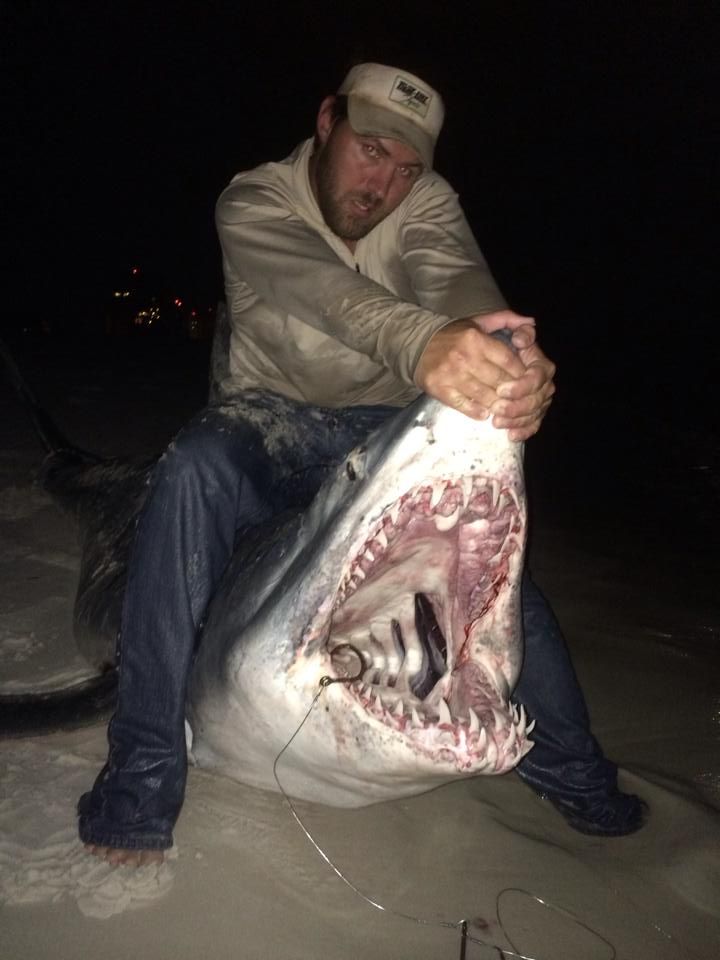 Joey Polk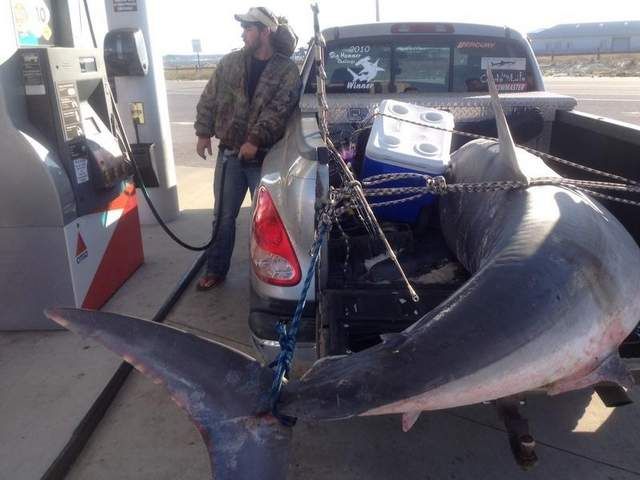 LAND-BASED WORLD RECORD MAKO SHARK (2009)
Earnie Polk with his 674 lb Record Mako caught in 2009

Earnie Polk -Joey's cousin is a Legendary land-based shark hunter who has the existing Mako Record caught from a beach and is also one of the few human beings to have ever caught a mako shark from a pier such as the one pictured above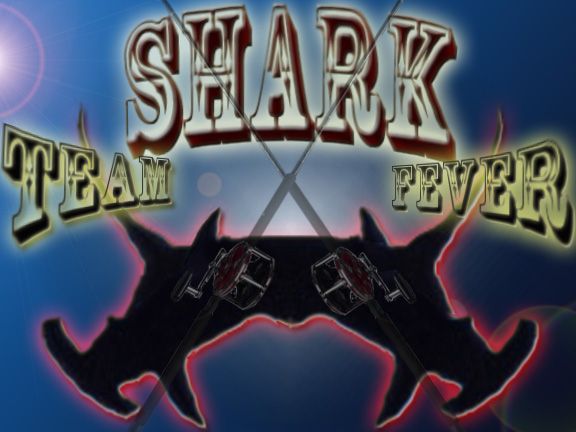 SOUTH FLORIDA SHARK CLUB -President SFSC-Founding Member est 1983 SFSC-Website Administrator BIG HAMMER SHARK TOURNAMENT -Founder Rene Memorial Sharkathon -Founder NMFS Shark Tagger
Topic starter
Posted : 04/16/2014 11:18 pm
Awesome catch!!!
Sent from my iPhone using Tapatalk
2012 BTC 2nd Place Largest Shark
2012 January Sharker of The Month
2012 BHC 4th Place Largest Shark
2014 February Sharker of The Month
Posted : 04/16/2014 11:41 pm
AWESOME CATCH JOEY & EARNIE! this is what happens when you do your homework and put in the time on the beach.
Posted : 04/17/2014 6:11 am
Amazing catch Earnie and Joey! What a monster!!
"He that keepeth his mouth keepeth his life: but he that openeth wide his lips shall have destruction" (Proverbs 13:3).
Visit us online: http://blacktiphfishing.org
Posted : 04/17/2014 6:59 am
Absolutely amazing catch of a lifetime.
Posted : 04/17/2014 7:50 am
NOW THATS A TRUE TRUE MONSTER THAT ALL US SHARKERS CAN RELATE TO. IF NOT FOR CATCHES LIKE THIS HALF OF US WOULD NOT BE SHARKEN. AWESOME CATCH THAT ALL US CAN DREAM ABOUT.
Posted : 04/17/2014 9:11 am
Wow....incredible catch. Congratulations on the beast!
Posted : 04/17/2014 10:46 am
Amazing catch, congrats to you guys!!!!
Posted : 04/17/2014 4:07 pm
Wow ! Would you mind telling us a few more details ? Bait , bait distance, line, time and general area ??
Posted : 04/17/2014 4:18 pm
Great catch indeed, hope the media treat you guys well.
Just an average fisherman.
Posted : 04/17/2014 5:42 pm
Thank y'all for the good comments. I'll post more tomorrow. Been a long day.
Land Based World Record #5 short fin Mako 700lbs
Team
Land Based World Record #8 Tiger shark 928lbs
True
Land Based World Record #9 Tiger shark 949lbs
Blue
SFSC Panhandle Events Coordinator
Posted : 04/17/2014 9:36 pm
Congratulations guys. What a massive Shark. Congrats!!!!
Posted : 04/18/2014 8:55 am
Way to Go Joey, Earnie, and Kenny awesome catch guys, Just seen you guys on the TV News (channel 7 WSVN) today here in Miami , You guys are becoming STARS lol If it were the Dirty South Boys we would have called all the TV news stations and newspapers in town lol, Keep up the good work and the media thing was a positive one
Posted : 04/21/2014 7:55 pm
Great work Joey and the rest of the Polk crew.PS-let us know when the steaks hit the grill.That puppy should feed everyone on this site......Dave
Posted : 04/21/2014 8:07 pm
What can I say, but congratulations again! (Do it again, do it again!)
Posted : 04/22/2014 4:12 am