[Sticky]

2 TIGERS FROM KEYS BRIDGES IN 2014,,,,WOW!!
As administrator of this site it is difficult for me to see every single post that comes on here and it becomes even harder to give proper recognition to some of the more extraordinary and unusual catches.First of i'm so busy all the time that many reports are go right by me and I'll see them a couple of weeks after there initial post date.My apologies to those anglers who caught outstanding catches that I may have failed to give adequate recognition.I will work on getting better .
These two anglers both South Florida Shark Club members deserve RECOGNITION for being the first to catch Tiger Sharks from a bridge in many years.Luis Cordova and Jonathan Polsino are the two outstanding anglers who accomplished this,here are there stories:

KEYS BRIDGE TIGER SHARK 3/22/14
by LUIS CORDOVA
" Being an avid bridge fisherman, this is one catch that I will never forget. I am sure some of the old timers will chime in and let us know just how rare it is to catch a Big Tiger Shark from a Keys Bridge. To my recollection, there have only been a few Tigers caught off a Keys Bridge in the last 40-50 years. Will Fundora caught a Big Tiger on rope at the old Bahia Honda Bridge in the early 80's. My uncle Jose and Lui Iglesias also caught a Nice Tiger off the old Bahia Honda Bridge on a rope in the early 80's. There is also a Big Tiger caught on rod and reel off of Long Key by Lui Iglesias in I think the early 90's. And then there is the massive 14ft Tiger Shark caught by Lee Caman off of CH 2 bridge in 1969. Other than these few Tigers caught I have not heard of many others. That was until the wee hours of Saturday Morning 3-22-14.
The Trip
I spoke to my friend Brad who I had not fished with in about a year. We both wanted to go the Keys so we headed out late Friday afternoon after work. We had planned to do a Long Key outgoing tide and a CH5 incoming tide trip. Since the outgoing tide was going to change in a few hours we decided to hit CH5 and get set up. This is a bridge that I have been fishing since I was a kid. I use to go with my Father, my Grandfather and Uncle. There are better bridges in the Keys to fish no doubt, but I have always enjoyed fishing CH5. I had not Shark Fished on CH5 in a while as I had stared going much further south recently and also trying new spots.
The tide was still going out pretty good so we rigged up and put baits out. I had a Shark pick up an AJ head on the outgoing tide, and once I set up on this shark I knew it was a good one. I can feel his weight right off the bat and the Shark starts taking drag with no problem off of my 12/0. After about one minute the Shark comes loose. I am upset and don't know what happened. When I reel in the Shark had broken my number 19 wire. I was pretty amazed because this Shark was not of the Kamakaze Blacktip style. This was a big heavy Shark that was not playing around. I believe I had lost a Big Bull Shark.
The Tiger Shark
Once the tide switched to incoming, we set up our baits knowing there are still lobster traps in the area. But we knew where they were so we could try and keep a Shark off of them. Brad and I were frustrated because we lost several Sharks on the outgoing. The bite was on. Now on the incoming the bite had slowed. Brad did get another hit around 2AM but he lost it as well. It was time for my sleeping bag. I had my 12/0 out with half of a Cuda, and my 14/0 out with a Piece of Amberjack. I laid down next to my 14/0 and tried to get some rest. Around 4:45AM the tide was slack and I even noticed the tide was slowly starting to move out but minimal. It was time to bring the rods in until right then and there my 14/0 gets picked up. I feed the Shark some line and then set up. I'm on!!! This is a weird fight. This Shark can pull drag out when it wants too but it's cutting a lot and making dashes for the bridge. Knowing the tide was about to change my worry was the Shark going under. After a frustrating night of losing Sharks I was NOT GOING TO LET THAT HAPPEN. I ran after the Shark every time it made a dash to the bridge. I tightened my drag as much as I could and did my best to stay right on top of it and I was ready to sit on the rod with all my might if it tried to go under. After a while we had the Shark coming up but it was still fighting and not ready to be had straight up and down. I am already hearing that it's a Big Bull. I too get a glimpse and it looks like a Big Bull. Finally we have her straight up and down. By this time a bunch of guys from another camp are with us. They were all saying the usual things we all hear out there and they were surprised to see such a Nice Shark. After a couple of minutes Brad says " bro it's a Tiger " " it's an fu$$in Tiger ". I say no way????? And yep you can now see it's beautiful stripes. It's a pretty Big Tiger. She looks about 9ft Long and she had very nice Girth to her. We are pumped up so start walking her down the bridge so we can give her a good release with not much rig left in her. The guys from the other camp helped us walk her. The tide was switching so the Tiger would occasionally try and go under. We got her to the Seawall took some pics and we let this beautiful Keys Tiger back on her way. Seeing that Tiger Shark go back into the Florida Keys waters special.
Measurements of the Shark
We could not get the correct measurements of this Shark. She was all of 9ft long but we don't have the exact measurements. We couldn't straighten her out and some people were suggesting we bring her over the wall. I put a stop to that for the good of the Shark. bringing her over the wall would have hurt her even further and I was going to do that just fir a measurement. We caught and released her and that is good enough for me. The pics speak for themselves. She was big hefty Tiger!"
Hope you enjoy the report and pics.
Brad and I with the Tiger at the Seawall
Other guys with the Tiger at the Seawall
Big Jonathan's First Ever Tiger & First Ever Caught at No Name Bridge
by Jd Hammer
"WENT TO NO NAME TO HOOK UP WITH JERRY AND JANET. WE CHUMMED THE FLATS FOR HOURS AND THE TIGER CAME UP INTHE FLATS. JONATHAN BROUGHT HIS ROD OVER AND WE HOOKED THE SHARK. JONATHAN DID A GREAT JOB ON THE TIGER. HE PULLED THE TIGER OUT FROM UNDER THREE TIMES. HERE ARE SOME PICKS.HE HAD COBIAS FOLLOWING IT UP TO THE BRIDGE"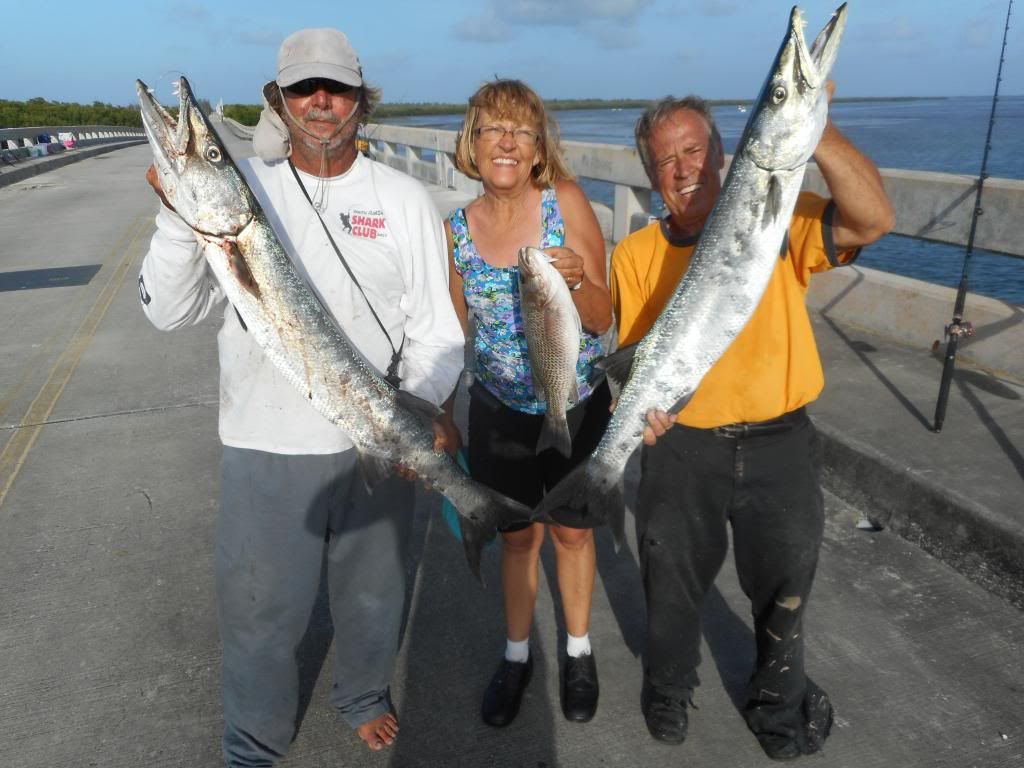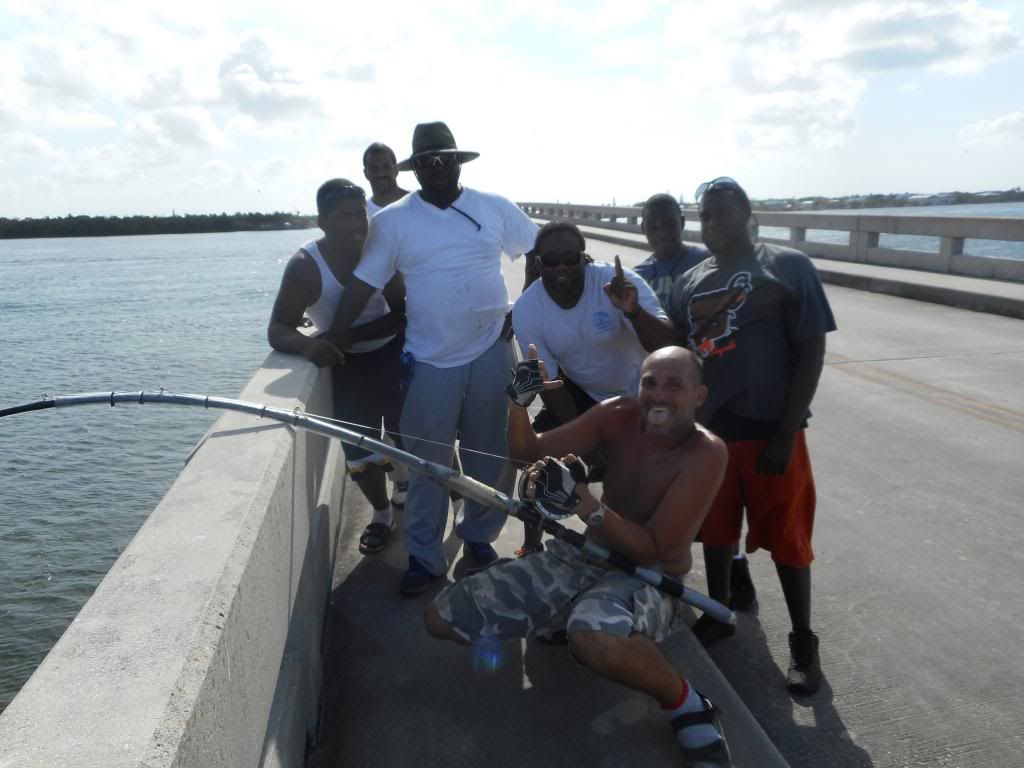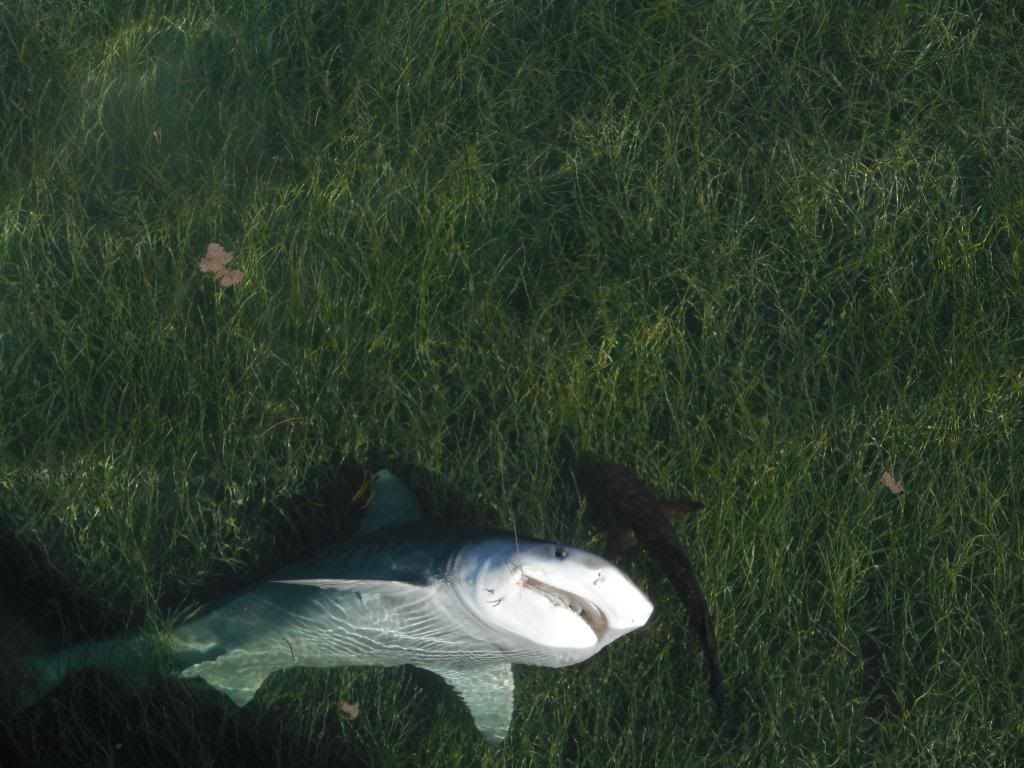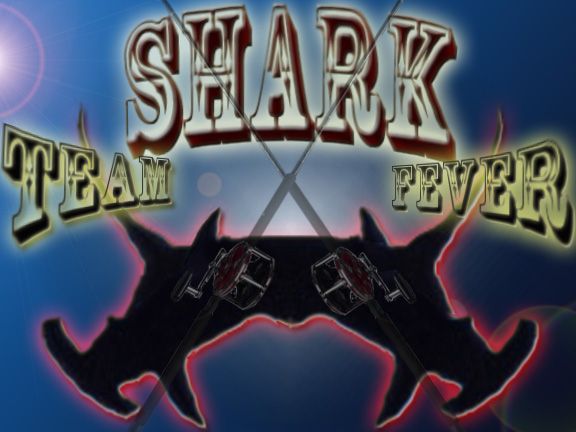 SOUTH FLORIDA SHARK CLUB -President SFSC-Founding Member est 1983 SFSC-Website Administrator BIG HAMMER SHARK TOURNAMENT -Founder Rene Memorial Sharkathon -Founder NMFS Shark Tagger
Topic starter
Posted : 12/24/2014 3:10 pm
Dude that's Downrigh Unheard of!!!Congratulations Luis and Jonathan.
Posted : 12/26/2014 10:18 pm
Great catches Luis and treehopper
Sent from my iPad using Tapatalk
2012 BTC 2nd Place Largest Shark
2012 January Sharker of The Month
2012 BHC 4th Place Largest Shark
2014 February Sharker of The Month
Posted : 12/26/2014 11:32 pm