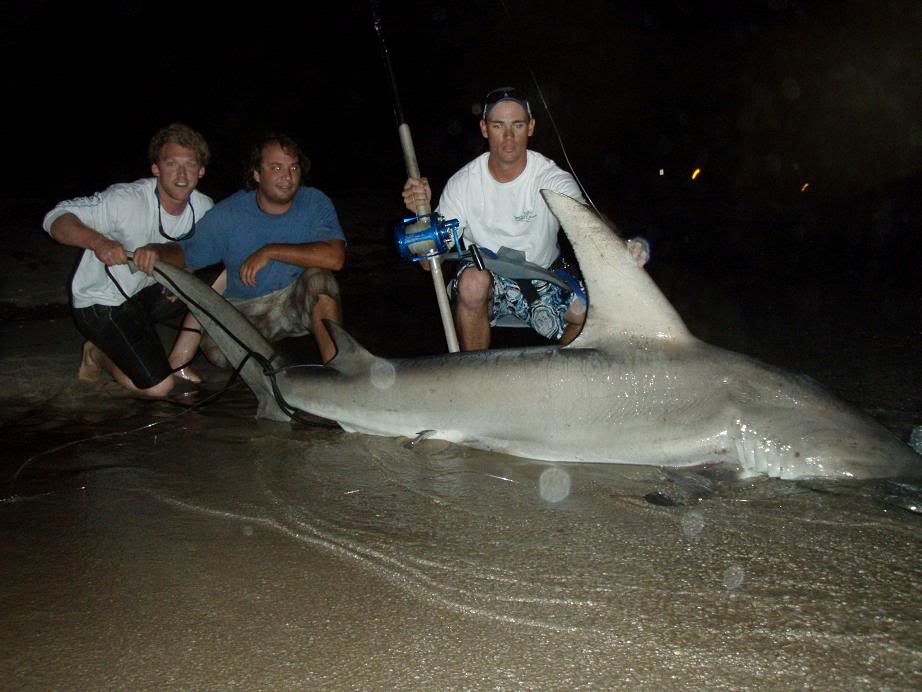 Team Black Bart uses the new style lever drag reels with much success.Pictured here with an Avet and another beefy hammer on the beach(circa 2010)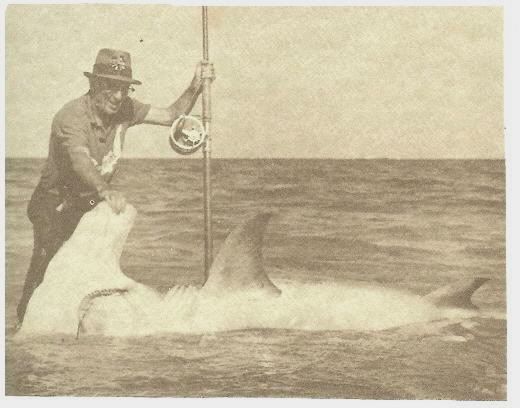 Herb Goodman always used Penn Senators
Walter Maxwell and his famous Penn 16/0 -left handed
So many new lever drag reels coming out lately to choose from and prices dropping due to
the fact some are made in China but i'm wondering if these newer high tech reels will hold up over time when being used on the beach.The better ones such as the Duels and the Avets are not Asian manufactured but many others are.They are advertised and hyped up as having so much more drag then a typical Penn 12/0,14/0 or 16/0 but i have seen with my own two eyes how delicate these reels can be be when exposed to beach sand.We have been using the Penn Senators for so long that most of us rely on them solely for our beach,bridge,jetty and pier fishing that i can't even imagine myself switching to a lever drag for our type of fishing.



Duel and Penn's side by side

On a boat and offshore i can troll for big pelagics including wahoo ,dolphin,tuna or marlin with Shimano Tiagras or Internatinals but on a beach or bridge it's second nature to reach for my 14/0 and long rod.Maybe it's like the old time long board surfers not wanting to adapt to the newer short boards but I feel no reel has been invented to rival the Penn Senator for durability and ease of maintenance,,,,,when I see one I'll be sure to let you know.Let's face it most shark fisherman are a rough bunch and maybe we're used to not having to spend too much time on maintenance of our big guns we'd rather throw that reel in the shed after hosing it down in the morning after fishing all night rather then have to oil it up and carefully pick the sand out of the side plates so that the drag will be clean when you hook that big drag busting brute.
a typical beach shark fishing scene and the big Penn Senators at the ready
Aside from overall ruggedness ,and durability , larger line capacity is one of the main advantages of the bigger Penn Senators vs the smaller lever drag reels.The informed land-based shark fisherman knows that braid will give you superior line capacity but will not forgive any rubbish and by rubbish I mean if your braid rubs anything -you're done.Braided lines have the advantage of less stretch and thinner diameter line that gives you greater line capacity on any reel but for beach,bridge and pier shark fishing the disadvanteges of braid far outweigh it's advantages.Braided lines have a tendency to break the second they rub on any hard structure .So braid can give a smaller lever drag reel great line capacity but it will cut you lose quickly when rubbed the wrong way.Some very good land-based shark hunters use both braid and mono in a combination that maximizes line capacity but have there reels topped off with the much more abrasion resistant monofilament lines .The Penn's greater line capacity allows any fisherman to experiment with a combination of braid and mono that is limited with the smaller lever drag reels.
Monster Hammer caught on a Penn(Delray beach 2010)
Some will say that the old fashioned fisherman don't want to change and adapt to the new way of doing things and some will think we don't know the difference but I say only time will tell how the anglers will adapt to new technology that seems to be coming up with new reels with better drag systems every other year.Remember that these new reels are designed with the offshore fisherman in mind and the land-based anglers are not even considered when the design team of a company works on the latest model.Therein lies the advantage of the Penn workhorse it's simple rugged design has been proven anywhere and everywhere it fishes and very seldom will they fail on a big fish.I have heard of some handles busting in the middle of a long fight or maybe drag washers acting sticky from lack of maintenance but that handle that broke off should of been changed when the problem first became evident.A defective handle or a worn main gear is just a sign of wear and maintenance should be performed to assure optimal performance.An anglers lack of foresight will contributed to lost fish with any equipment that is not cared for correctly.
Mike Palmer and Zac Miller -team oldskool with a huge hammer caught on a Penn 14/0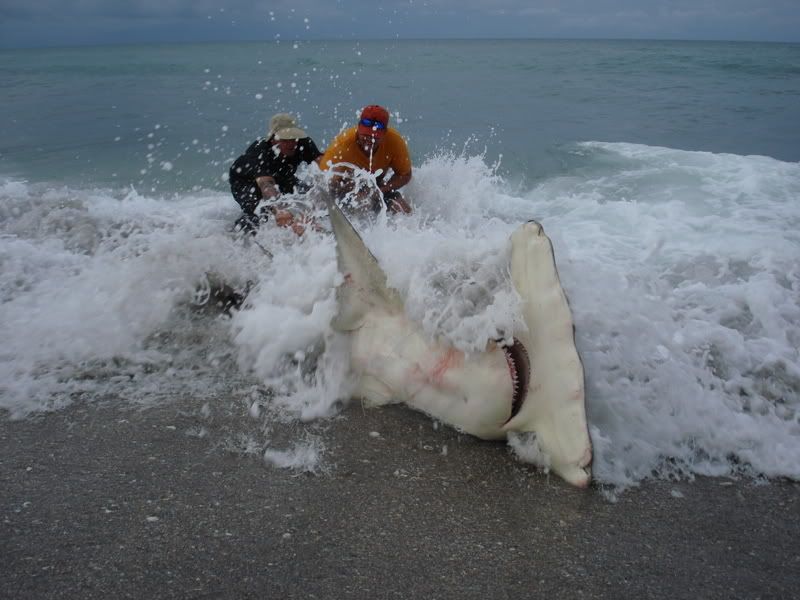 Another Team Oldskool monster hammer caught on a Penn 14/0
Another advantage that I like to point out is the fact that a larger spool will take in more line with each turn of the handle based on sheer size not gear ratio.Some will say that the better gear ratio of the newer lever drag evens out the score hear but I personally would rather have a big fish out 600 yards hooked on a Penn Senator then on a smaller spooled reel.Maybe it's psychological but as the fish continues to take line and the spool gets smaller I feel more in control with my trusty Penn doing everything it's designed to do to stop that big shark.
What do you guys think about one vs the other.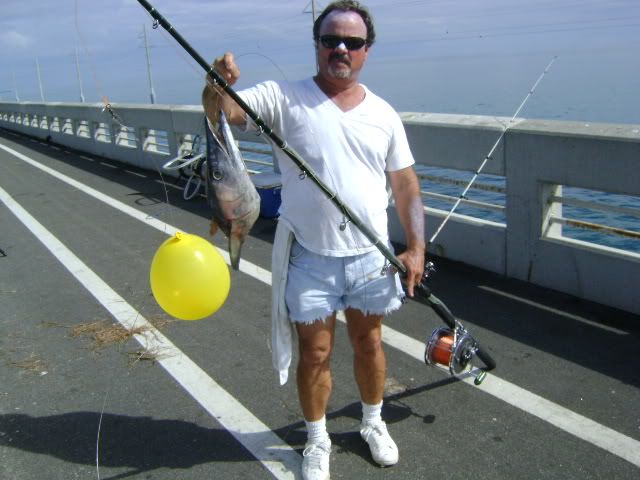 On the Florida keys bridges the reel of preference traditionally has been the Penn Senator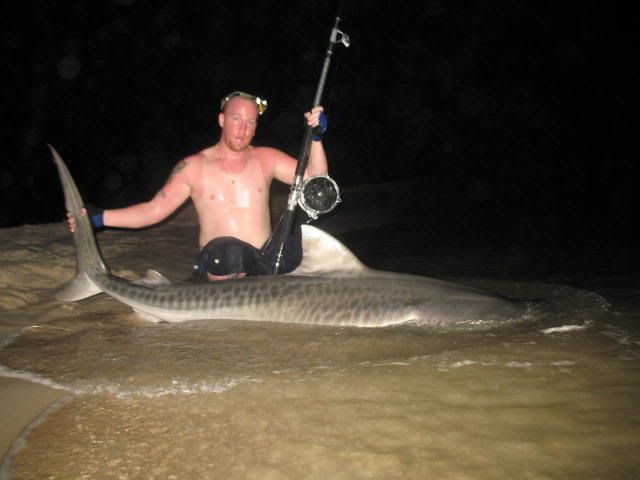 On the beach there is no more reliable reel then the Penn Senator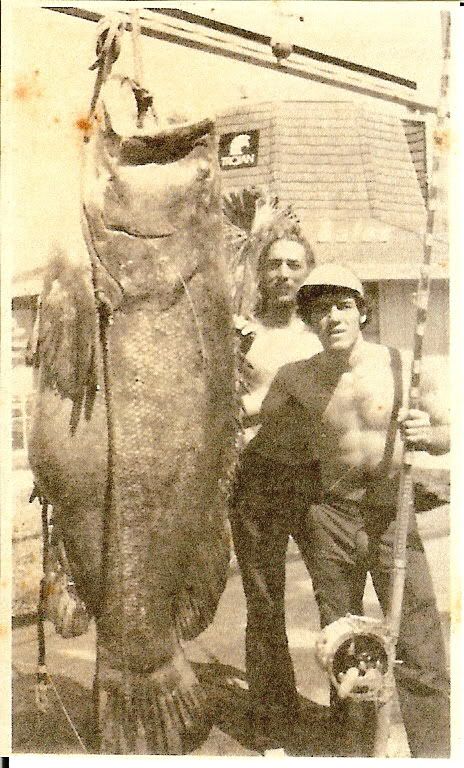 Then and now Penn 14/0 THE RELIABLE WORKHORSE.Rene and Jd Hammer with a big jewfish caught on the naples pier
Penn 14/0 THEN and NOW