2017 BIG HAMMER CHALLENGE SHARK TOURNAMENT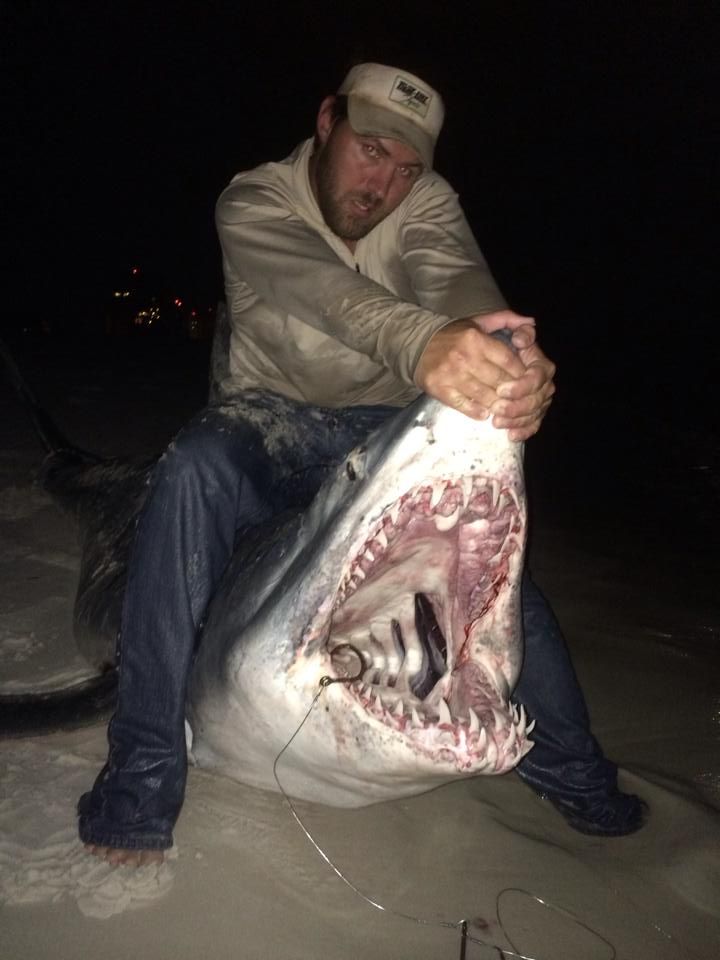 Joey Polk (Team TRUE BLUE) with his ILBSFA World Record Mako
OFFICIAL 2017 BHC RULES


*The 2017 Big Hammer Challenge Shark Tournament Dates will be Friday April 14th to Sunday May 14th at 11:59 PM

* 2017 Big Hammer Challenge Boundaries include Florida,Georgia,South Carolina ,North Carolina and Australia.

*All federal and state fisheries laws of each state or Country represented apply and must be observed by anglers in the 2017 Big Hammer Challenge
Shark Tournament

1) All sharks caught in the Big Hammer Challenge must be caught from land or structure--NO SHARKS CAUGHT FROM BOATS PERMITTED

2) All sharks must be caught on manual rod and reel, No electric reels allowed or wire line allowed

3) All sharks must be caught unassisted by one angler on the rod and reel-with very few exceptions-Example =you may assist an angler in putting on a harness or gimbal ,or you may help him untangle his line stuck on other lines,.YOU MAY NOT CRANK THE HANDLE OR HAVE THE ROD LAYED ON YOUR BACK TO RELIEVE THE ANGLER FIGHTING THE SHARK,YOU MAY NOT PASS THE ROD AMONG TEAM MEMBERS OR ANYBODY ELSE

4) All sharks must be caught from the state of Florida, Georgia, South Carolina,North Carolina(USA) or Australian shoreline

5) All Big Hammer Challenge PARTICIPANTS 'MUST' WEAR A LIFE VEST WHEN DEPLOYING BAITS

5) All sharks caught must be handled with caution and care to insure there survival after release
All sharks must be measured ,photographed and quickly released alive

6A) *If an angler releases a shark and it ends up dead on the beach the next day it is not grounds for DISQUALIFICATION -IF -the angler did everything in his power to SAFELY REVIVE and RELEASE THE SHARK SAFELY BACK INTO THE WILD

7) All sharks must be a minimum of 5 feet long to qualify in the BHC(Measured Tip of snout to tip of tail)

8) All sharks should be photographed with a Digital Camera -CEL PHONE PICS OF BAD QUALITY WILL NOT BE ACCEPTED

9) Cameras should have the Correct Time/Date Stamp -Please Adhere to this Rule

10) All anglers submitting a shark must appear in the picture with the shark, and should be facing the camera.

11) All sharks must be PHOTOGRAPHED & POSTED on http://www.southfloridasharkclub.com to qualify ;NOT ON facebook. Below is the direct link

viewtopic.php?f=69&t=8997

12) ALL SHARKS THAT APPEAR TO BE DEAD ON THE SAND IN THE PICTURES YOU SUBMIT WILL BE DISQUALIFIED.
SUBMITTED Sharks that appear discolored,lifeless,bloodied,gashed,gaffed,or INTENTIONALLY harmed will be be DISQUALIFIED.

13) ALL Sharks to be Considered FOR MAJOR CASH PRIZES MUST BE VIDEO TAPED being released ALIVE and Swimming Away.The intent of this Rule is to avoid a boat caught shark from being photographed and submitted as a BHC Tournament Prize winning shark. SO PLEASE REMEMBER TO VIDEO TAPE THAT HUGE SHARK BEING RELEASED.

14) ALL PARTICIPANTS IN THE STANDINGS FOR MAJOR PRIZES ARE SUBJECT TO A POLYGRAPH TEST AT OUR DISCRETION

15) All shark pictures must contain the Secret Item(To be announced April 13,2017 (9 pm)) MUST BE IN EACH PICT W EACH SHARK

16) All sharks posted must have #1 Overall picture and #2 A Tail Shot picture with each shark posted to qualify(a closeup of where the tip of the tail hits the tape)

17)Sharks must be measured using a measuring tape marked in Feet not in meters.

18) All Winners are determined by the OVERALL LENGTH of the sharks entered ,Not Fork Length or Girth times fork.

19) All sharks must be measured from Tip of snout to Tip of the tail-NO STRETCHING OF THE TAIL. SHARKS SHOULD BE PHOTOGRAPHED
WITH TAILS IN A NORMAL POSITION AND NOT COMPLETELY HORIZONTAL in an attempt to gain length. Anglers stretching sharks tails may
subject an entire Team to Disqualification.

20) All sharks to be submitted should be measured using either a metal or vinyl tape measure(wider= better) that MUST BE SPRAY PAINTED AT EVERY FOOT MARK(from 1 to 16 feet preferably)* If you have a WIDE VINYL MEASURING TAPE used in some previous shark tournaments ,you can use it here as long as they are marked at every foot mark also

21) ALL SHARKS that will be entered for Major Prizes MUST BE REPORTED to BHC staff within 3 days of capture

22) All sharks must be posted on the SFSC site no later than (4 days) after CAPTURE-Deadline for final pictures is Monday May 15, 2017 (12 noon)USA Eastern Standard Time

23) Nurse sharks ONLY qualify for Team Total and Individual Totals, but not for any other prizes

24) All anglers competing must fill out and sign the Registration Form Waiver-NO EXCEPTIONS

25) Teams may divide in two to fish different spots on the same day

26) Deadline for 2017 BHC Registration is April 24,2017

27) All Team members must be identified on a BHC Registration Form- prior to the April 24,2017 cut-off date

28) All teams must designate a Team Captain who will be in charge of communicating with BHC staff

29) All Teams must consist of a minimum of two anglers and a maximum of 6. All team members must reside in the same country.No mixed Teams.

30) All Teams must consist of at least TWO Adult anglers-NO ALL JUNIOR ANGLER TEAMS ALLOWED

31) All anglers under the age of 18 must have the Consent Form on the Registration signed by a parent or Guardian

32) In case of a Tie in any of the Cash prize categories the total amount will be split 50/50.

33) In case of a Tie for "Most Sharks" Category the Team with the MOST TOTAL LENGTH OF SHARKS is declared the WINNER

34) All 2017 Official Winners will be Announced by Monday May 15th,2017 * or (as soon as possible after the last day of fishing)

35) Any Disqualified Angler or Team will not receive any refund of any type

* ALL RULES ARE SUBJECT TO CHANGE




SOCIAL MEDIA ATTACKS
*Any participant in the 2017 BHC that attempts to disrupt the Tournament or Harass any of it's anglers on social media including but not limited to facebook,instagram or other fishing forums may be permanently Disqualified from the Tournament. Anyone who intentionally and maliciously attempts to slander,defame or hurt a participant will be subject to permanent disqualification from the BHC and this website. This Tournament was created to shine positive light on the land-based shark fishing community around planet and to showcase the best shore bound shark hunters from around the World.This is not a place to attack ,divide and destroy our sport or those involved in this event.We take your comments seriously and respect everyone's opinion but please be kind and respectful to ALL .
The people who bring you this Epic one of a kind Shark Tournament put there heart and soul into this event and ask you to please consider the fate of our sport before you post derogatory commentary . Please address your complaints in written form to William Fundora at the email provided below or in a private message in this forum.
_______________________FORMAL COMPLAINTS,DISPUTES___________
[/i][/b]

*All complaints SHOULD be initially filed via email(info@southfloridasharkclub.com) or Private Message on the SFSC forum to "William" BHC Administrator/DIRECTOR
*In order for any Dispute to become OFFICIAL it must be accompanied with a $25 refundable payment (MONEY ORDER,Check or Cash in person)mailed to "South Florida Shark Club" c/o South Florida Shark Club - ADDRESS -10818 NW 6th CT Miami ,Fl 33168.
The FORMAL COMPLAINT MUST INCLUDE YOUR NAME ,TEAM NAME,ADDRESS AND A PHONE NUMBER WHERE WE CAN REACH YOU.Once we have received your FORMAL WRITTEN COMPLAINT along with your $25 , the five men Tournament Committee listed below will vote to determine the FINAL DECISION at which time we will notify you of our decision
*The Committee will have A representatives from each Zone,State or Country
_______ 2017 BIG HAMMER CHALLENGE TOURNAMENT COMMITTEE_______
1) WILLIAM FUNDORA-DIRECTOR/FOUNDER "Big Hammer Challenge Shark Tournament"

2) Chris Salomoni( snookhunter) -EAST COAST REPRESENTATIVE(Ex-Vice Pres SFSC)

3) Dave Murray-GULF COAST REPRESENTATIVE(Tampa Bay Sharkers)

4) Earnie Polk-PANHANDLE REPRESENTATIVE(ILBSFA World Record Holder -Team True Blue)

5) Stan J Warren -GEORGIA,S & N CAROLINA REPRESENTATIVE(Coastal Shark Tagging Initiative)


ANGLER SAFETY -USE EXTREME CAUTION
IT IS REQUIRED THAT ALL PARTICIPANTS IN THE 2017 Big Hammer Challenge ALWAYS WEAR A LIFE VEST WHEN DEPLOYING BAITS.IF YOU ARE SEEN DEPLOYING BAITS WITHOUT A LIFE VEST YOU WILL BE DISQUALIFIED FROM THIS TOURNAMENT.

During any activity involved with this sport or related competition, the SAFETY of the ANGLERS and ALL OTHERS is of the utmost importance and should take precedence over any attempt to catch, handle or release any wild animal including sharks. Always use extreme precaution when handling any shark as they can inflict very serious injuries.The safety of all anglers and their teammates is their responsibility, and should be the first consideration in all aspects of this competition .The 2017 BHC is a CATCH,PICTURE & RELEASE TOURNAMENT and proper care and handling should be exercised to avoid any injury to all sharks and fish caught during the month-long competition .The Big Hammer Challenge Shark Tournament, it's officers, committee members, general members, and/or assigns assume no responsibility for risk of injury or death that might occur as a result of attempting to capture, handle or release any wild animal, anywhere, under any circumstances.
TOURNAMENT DATES - April 14th-May 14th 2017
.
Tournament will start Friday April 14th,2017 and ends Sunday May 14th, 2017 AT MIDNIGHT
*This tournament is an ALL catch and release tournament hosted on http://www.southfloridasharkclub.com
This tournament benefits two non profit organizations #1 the Shorebound Anglers Alliance, and the #2 the South Florida Shark Club. All monies collected during the 2017 BHC go towards angler Cash Prizes,Trophies,other Prizes and other Tournament related expenses.ALL TOURNAMENT PROCEEDS LEFT OVER AFTER EXPENSES GO TO BENEFIT The Shorebound Anglers Alliance a non profit organization that represents anglers who fish from shore and whose rights we fight to defend ; and the South Florida Shark Club who sponsors the Big Hammer Challenge each year, and has been an ardent proponent/defender of land-based shark fishing for close to five decades.

REGISTRATION, MAILING FEES and DEADLINE
Registration fee is $100 per angler and $600 for a Team of six. Each Angler will receive a 2017 BHC T shirt when they pay the Registration fee .Additional BHC T'shirts will be sold at $25 each -please specify sizes needed in your Registration Form.DEADLINE TO REGISTER A TEAM or add or delete Anglers -IS MONDAY APRIL 24 ,2017.If a US Team needs the 2017 BHC packet mailed to them please ADD a $15 shipping fee in the continental United States.In addition any Teams wanting Trophies mailed to them must pay in advance the shipping cost. Shipping fees for Teams in Australia for Angler packets and Trophies must be handled by each Team Captain ,we will assist and recommend. Cheapest courier service to Australia is US Postal Priority Mail which charges approximately $77 per box to ship items for a complete Team of six. If we get some Teams from the same area of Australia we may choose to send various Team packets together to save the tourney participants shipping cost .Shipping of Angler packets and Trophies to Australia must be paid in advance to BHC staff via Paypal before we mail out your complete BHC packet . A Paypal account has been set up to accept all Team payments.We urge all anglers participating in this years BHC to register early and pay the total due from your Team via money order ,personal check or Paypal .Only registered anglers can participate and catch sharks for your team.The angler making the catch must appear in the picture facing the camera and must be identified with last and first name.All anglers fishing in the BIG HAMMER CHALLENGE must sign the registration/liability disclaimer form.You cannot compete until we have received your signed fully completed REGISTRATION FORM and your registration fees have been paid in Full.If we need to mail out winning teams Trophies we will communicate total shipping cost before we proceed.