For us this was the first time we would put together a shark tournament on the internet for everyone to see and participate in.We were encouraged by seeing the First annual Shorebound Shark Tourney and it's overwhelming success on
http://www.boatlessfishing.com,,,,i
thought finally i have found a group of people dedicated to the sport of land-based shark fishing and they're like us they love this sport and are taking the time to put together a tournament.I was filled with excitement at the thought of our sport being brought to light after so many years of being on the sidelines,disrespected and might to feel like 2nd place next to the offshore fishing tournaments popular in south Florida.Without any background in computers or the internet I quickly went to work with my nephew Jorgey jr to learn how to navigate the in the internet and i also needed to learn the most basic of lessons in using a computer.With vigor i attacked the task at hand ,,,i had alot of catching up to do and i was an eager student as long as i could show the world what we had been catching since the early 1970's .So this tournament was a learning expeirience and an opportunity to put our sport and our shark club in the limelight but it's been a bumpy road at times but one that i would not change for anything.I've met many new friends and have been invigorated with a young renewed spirit to catch sharks ,,,,this is my sport ,,,my passion, i enjoy it and do it with love .I only hope that i can encourage others to seek there dreams and fish for giants from shore because it is possible.
The Link Below
http://www.boatlessfishing.com/forum/vi ... =94&t=4131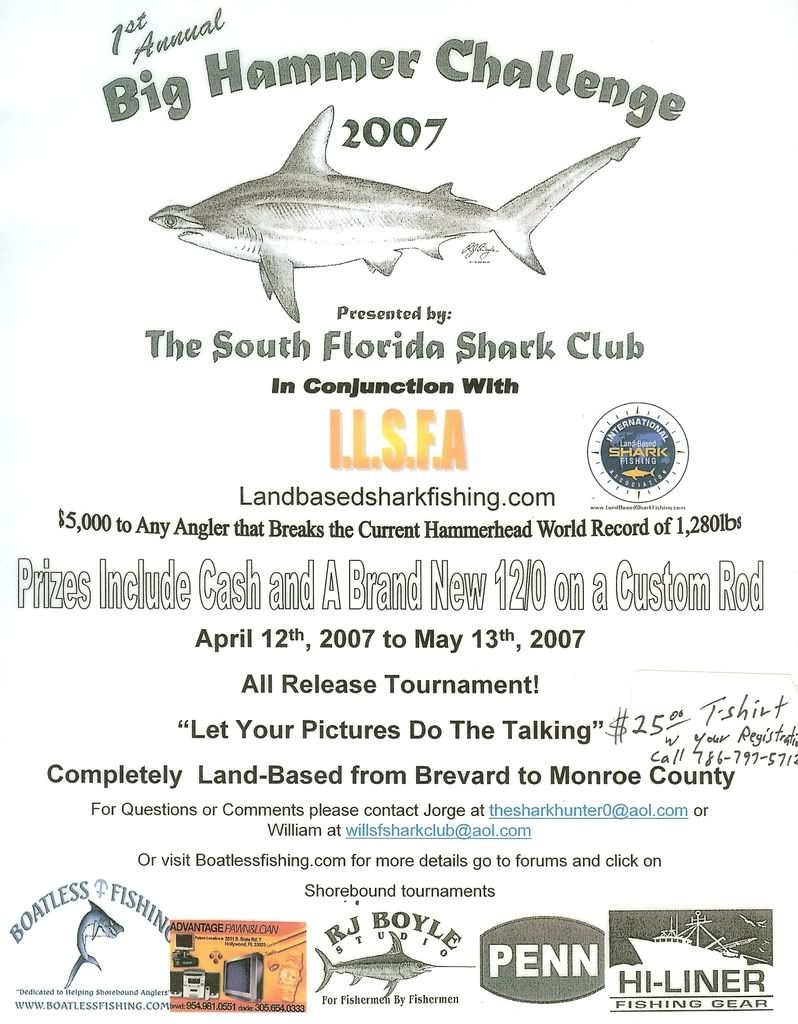 Official 1st Annual Big Hammer Challenge T-shirt
Here's the link to the 2007 BIG HAMMER CHALLENGE SHARK TOURNAMENT which was hosted on http://www.boatlessfishing.com before the South Florida Shark Club had it's own website. You have to register a username on boatless to see the pictures and story of the 2007 BHC--Our First Internet tournament.
http://boatlessfishing.com/forum/viewto ... =94&t=4131
TOP THREE WINNERS and Division Winners
The weights were calculated using the standard formula with fork measurements and girth measurements,Off the top of my head the Tiger I think was 10 foot 4 inch ,the second place hammer was 10 foot 7 inch and the bull was 8 foot 6 inch
1st place -ZACK MYERS (TEAM OLDSKOOL)........TIGER......#381--10 FT 4 INCHES

2nd place-JORGE FUNDORA Jr (TEAM SHARK MASTERS).........HAMMERHEAD.....#372--10 FT 7 INCHES

3rd place-SHANNON BUSTAMANTE (TEAM HAMMER N THE PHENOMS)...........BULL.....#360


TOP TEAM CHAMPIONS:.....3 places

1ST place.......LAND PIRATES CREW........28 sharks

2nd place.......TEAM OLDSKOOL...........14 sharks

3rd place.........TEAM FINELINE.............13 sharks


BIGGEST SHARK CATEGORIES.......5 places

1st place ......TEAM OLDSKOOL.......TIGER......#381

2nd place.....TEAM SHARKMASTERS......HAMMERHEAD.....#372

3rd place.......TEAM HAMMER AND THE PENOMES.....BULL.....#360

4th place.......LAND PIRATES CREW......LEMON SHARK......# 351

5th place.......LAND PIRATES CREW.....TIGER........#287


BIGGEST HAMMERHEAD......SHARKMASTERS.........#372

BIGGEST TIGER SHARK.....TEAM OLDSKOOL.........#381

BIGGEST BULL SHARK........HAMMER AND THE PHENOMS......#360



JR. ANGLER BIGGEST SHARK......TEAM OLDSKOOL JR... (DREW)........SPINNERSHARK


BIGGEST SHARK CAUGHT OFF THE BEACH.......TEAM OLDSKOOL ....TIGER #381


(*).....BIGGEST SHARK CAUGHT OFF A BRIDGE..... no entrys

(*).....BIGGEST SHARK CAUGHT OFF A PIER.....no entrys

BIGGEST SHARK CAUGHT ON 80# TEST .........LAND PIRATES CREW.....TIGER SHARK


2007 BIG HAMMER CHALLENGE RULES
Tournament is an Honor based tournament from any land-based structure
Award Categories
1st place Biggest Shark – Winner will receive 12/0 and custom rod
2nd place Biggest Shark
3rd place Biggest Shark
4th place Biggest Shark
5th place Biggest Shark
1st place Team Champions – Most Sharks caught and released.
2nd place Team Champions – Most Sharks caught and released.
3rd place Team Champions – Most Sharks caught and released.
Biggest Hammerhead – Winner will receive 9/0 and rod
Biggest Bull
Biggest Tiger
Junior Angler Biggest Shark
Prizes to be announced.
Rules
Tournament will start April 12th, 2007 at 12 p.m. And will end May 13th, 2007 at 12 p.m. Last day to register will be April 26th.
All sharks must be caught on rod and reel.
All sharks MUST be measured photographed and released ALIVE!
The minimum qualifying length of a shark must be 5ft.
Photographs must be clear.
All photographs must have secret item, which will be posted day before the beginning of the tournament.
In order for a shark to count length of measuring tape must be clearly seen in picture touching shark.
3 pictures must be taken.
Sharks must be measured from tip of the nose to tip of the tail.
Tip of the nose to the fork.
Total Girth
Teams must consist of at least one adult.
No teams may consist of all junior anglers.
Junior anglers are any angler under 18 years old.
Anglers under 18 must have a consent form signed and turned in before they can fish in the tournament. Any angler born before April 12th, 1989 will be considered a junior angler.
Nurse sharks will not count.
Disputes
Any disputes will be handled by the Tournament Committee.
William Fundora President of the South Florida Shark Club, Sean Paxton of the ILSFA, Mike Palmer of TEAM OLDSKOOL, and Tommy Argue of Boatlessfishing.com
Tournament is 100% non-profit.
In order for a photograph to be eligible angler must have registration form signed and turned in, and team members must all be identified before the commencement of the tournament. Tournament shirts are $25, which will help offset the costs of the prizes, and can be picked up when registration form is turned in. Every angler must have a tournament shirt.
All pictures must contain the secret item which will be posted the day before the tournament on boatlessfishing.com
Sharks can also be entered to be registered for potential land-based world records at landbasedsharkfishing.com which is the website for the INTERNATIONAL LAND-BASED SHARK FISHING ASSOCIATION.
Record submissions to the ILSFA will be properly evaluated, according to the ILSFA submission guidelines.
Please email William at
willsfsharkclub@aol.com
with team names and the name of your team members.
Teams will consist of a maximum 4 people.
This is a true challenge tournament, and not for the faint of heart. We're really aware of the monster hammers that come in to feed on tarpon this time of the year therefore it is now that we feel is the best time of the year for this tournament. The world record hammerhead shark was broken last year with a 1280 lb hammerhead caught at Boca Grande Pass on a boat after a five hour fight. There are sharks around the bridges and beaches that size and bigger but to catch one from land is where the true challenge lies. Many tried few have succeeded. Many of us old timers in the South Florida Shark Club have had 14/0s and 16/0s packed with 130 lb test line stripped of line down to the knot on beaches piers and bridges like Bahia Honda, Seven Miler, Long Key, Channel Two, Channel Five, Indian Key. We hope to see some real hardcore shark hunters step up and show who is up to the challenge
For any questions of comments contact William (786) 797-5712
Or email
willsfsharkclub@aol.com
We will not allow anyone to attempt to trash or discredit the tournament its anglers, its sponsors or the ruling committee. You can email me about any dispute or problem.
Disclaimer
Those putting the tournament together and the sponsors who have helped put it together are in no way responsible for any bodily injury or death resulting from the tournament.
Please register your team name and all angers on your team as soon as possible as start of tournament is right around the corner!
_________________
SOUTH FLORIDA SHARK CLUB These are TROPHY categories.
1)Biggest shark caught on 80lb test line
2)Biggest shark caught by a Female angler
3)Biggest shark caught on beach
4)Biggest shark caught on pier
5)Biggest shark caught on a bridge
6)2nd place Biggest shark caught by a junior (17 or under)
7)3rd place Biggest shark caught by a junior(17 or under)
RULE CHANGES
1) Deadline to register is no later then Thursday April 19th-2007
***One week after the start of the tournament***
2)Pictures of sharks must be e-mailed to us and posted on
http://www.boatlessfishing.com
no later then 3 days after being caught
3)Each team has the responsibility to post your catches on
www. boatlessfishing.com we will help you if need it.Call us.
4)Each team should designate a Team Captain;let us know
5)If your shark is dead it is disqualified.This is a total catch and
release tournament ,No dead sharks please!!! You may continue
in the tourney if one dies (it does happen) but that particular shark
does not count.
6)YOU MUST TAKE A PICTURE OF THE SHARK BEING RELEASED
AND FREELY SWIMMING AWAY!!!NO EXCEPTIONS
Four total pictures required *
(1) *-tip of nose to tip of tail
3 MEASUREMENTS REQUIRED- (2) * tip of nose to fork of tail
4 PICTURES REQUIRED- (3) *girth of shark
*release of live shark
Remember this is a picture tournament everything depends on
good quality pictures so please do a good job taking your pics or
let the person on the team with the most expierience and best camera take your pictures.When taking pictures at night shine the shark and the angler ,if you have a good spotlight use it to improve the clarity
of your pics.
2007 BHC TEAM NAMES
1)SHARK FEVER
2)TEAM REBEL
3)TEAM OLDSKOOL
4)TEAM OLSSKOOL JR
5)TEAM DARKWATER
6)TEAM SHARKMASTERS
7)TEAM CHAOS
8)TEAM HAMMER-N- THE PHENOMS
9)TEAM LAND PIRATES CREW
10)TEAM CHANCES R
11)TEAM WILDCAT 1
12)TEAM WILDCAT 2
13)TEAM FINE LINE
14)TEAM HOOKIN'UP AND HANGIN'OUT
15)TEAM HAMMER TIME
16)TEAM LOCKJAW
MIKE PALMER 2007 BHC QUOTE
Post subject: PostPosted: Sun May 13, 2007 12:37 am
Offline
Old Salt
Joined: Sat Mar 25, 2006 5:07 pm
Posts: 494
Location: jensen beach
Well guys .......we just unloaded the truck tonight , our team is done ...... after fishing hard this last week trying to catch a big bull from a dock or bridge fishing 6-8 hrs on both tides ( they were quite abnormal for this time of year i might add extreamely high ) every night except one and me working days, were pretty spent to say the least ......we had one bite that one night when we first fished .....after that we seen nothing , thats a lotta hours out there at some of our most productive spots . April - May is our dead months for fishing we new that going into this and i can honestly say we fished this tourney harder than we done the summers ......more hours fishing with out bites ,but its hard to catch fish when they are not there .....its been fun!......
just updated my log as goes :
14 sharks caught and entered....
16 sharks ....14 spinners that were to short just by a few inches ...small males as expected this time of year ...... 1 blacknosed and a 18" altantic shapenose i caught on a 14/0 hook.......its had a big appetite i guess....
6 big nurses.....
we lost a lotta, lotta spinners when we scaled down to our 30# gear when that strong south wind and weed hit us , with live baiting with lighter wire, smaller hooks on small 1# bluefish ....very frustrating, but at least we got the bites , that was it ! zac and jeff fished that week hard i just keep the tackle strait and keep them in rigs for them ....we went from our 9/0s to or 14/0s down to our 4/0s back to the 14/0s.......gheeze!....lol....and then the whopperstopper , i rebuilt that and hot rodded it .....its been fun all i can say.......we thought we could at least enter 40 spinners in this , but fell short .....they just left ....every year is diffrent , but with the team tally at 184 sharks so far from Jan 1... im happy with that for the year . we still have the summer and fall to get the number im shooting for weather permitting of course.....Will if we join your club , were going to set records ... and standards .......we just brought sailfish releases to shark releases to the beach.....but we like competting amongest ourselfs anyway.......
we didnt test out our new line of TEAM OLDSKOOL RODS the way i would have like to , didnt get into any size-albe fish but i wintched in that Tiger in 5 mins on the stand-up model with the 12/0 with 130#mono.. that shark came in dazed and when we put it back in the water i wished it would have ran like that when it wanted no part of us ........that rod has the power and the comfort i was aim-ing for in the harness with our agressive fishing style .....was happy with that and i designed it well for......very short fight times , easyier on us and get the fish in quicker ....less stress on us and our quarry.......were gonning to enter that one in the ILSFA.....RODS are comming to a store near you soon!
were back in the machines gym on monday ....got our supplements last monday .....were going to be in better shape than the last pair of years we fished in the next tourney ....we designed our new rods to stop and put the pressure on those big fish we hooked last year and lost due to being spooled ......zacs the brawn, so i cant let him have all the fun now can i ?.........hope to show all ya what they are this year, personally i would like to know my self......its a mystery ......
allrite ......im off to bed , got to make up what i didnt do and put off for this last month like alotta ya have to do as well .....teams that fished hard and done well....... ya done well .....congrats ....well catch on the next one !...............mike and zac
Last but not least,....my little insightfull comentary:...........
i just noticed we are in the 10th year of what i call our ten year cycle .......in my log......we had these big fish show up a few years after the net ban in fla. ive seen it build and the last few years have been our worst , there not showing up in spots where they have been for years , alotta fisherman can agree on that .....im hoping that its just been the weather patterns, lack of bait on our beaches, or just the way fla is building up in the resent years and with fresh water runoff...ect... that we are having .....have to wait and see and rember that these sharks reach maturity longer than most fish .....catch and release.....i would like to keep them around a little longer than done in decades past .. maybe they are adapting to the everchanging enviroment like they have for since the dawn of time and staying in diffrent places longer than most . our team is going to be fishing diffrent places this year to see what is there , as the sharks change we will change and adapt to there new enverioment as well .. we been doing that for years anyway... teams are showing us species of sharks that we havent seen in years and in numbers too...with these new shorebound shark tourneys popping up on the internet promoting CPR, were on the forefront of something big and lets ALL help manage something and promete something we all enjoy.....belive it or not its in our hands , lots of people are watching so we have a autidence ... if they havent notice yet , we will make them notice ....its that simple .......lets ALL set new standards for this fishery.... our team is proud to be a big part of this, and we practice what we preach! ....mike
Will, ya done a great job so far ............
_________________
Is it better to be feared or respected or is it two much to ask for both...