Because the members of this team decided to slander this tournament and my person in public media (facebook)rather than address a complaint through the proper channels as indicated in the BHC Rules they have been Disqualified and there catches as well Disqualified. Had they filed a Formal Complaint before the end of the Tournament and sent in the accompanying $25 ; the complaint would of been heard and voted on by the 2017 BHC committee-the complaint was passed to me the day after the tourney ended Monday May 15,2017.
Running this tournament never gets any easier it seems like every year we have those that want to oppose somebody's catch but they have not taken the time to Read the Rules so they carry on and bitch and complain but don't follow protocal to have a complaint properly addressed. If I were to DQ everyone that is suggested by pissed competitors ,half of those competing in the BHC field would be wiped out by angry, jealous, sore losers that want to find any little reason to knock somebody's catch off so they can move up one notch. I have the unsavory job of dealing with sort every year and thank God I have tough skin and can see right through the BS and the bad intentions. This Tournament is bullshitless because I don't tolerate it. God bless America and God Bless the hardest core shark fishermen that fish this tournament and give there all to win in a clean hard working way- not with deceit and bad intentions in there hearts
People who have a tendency to cheat in shark fishing tournaments and killing sharks and displaying them like its funny or allowable behavior should
not be trying to get other anglers catches disqualified. In the picture below which clearly shows the female anglers rod being supported by Raymundo Muniz a clear violation of BHC Rules . This picture was posted on facebook and quickly removed but not before somebody copied it and saved it to show a flagrant disregard of proper angler conduct.

First Shark
Team: DSSH Girls
Angler: Mercedes Oliva
8 ft 3 inch Lemon

Second Shark
Team: DSSH girls
Angler: Yunirka Oliva
Tiger Shark 9 ft 3/4 inch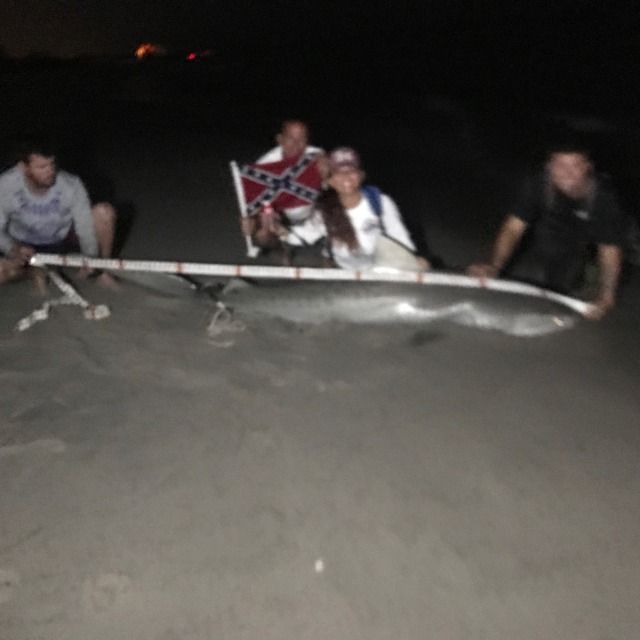 [url=http://s36.photobucket.com/user/LadieLac/media/IMG_0241_1.jpg.html]